Asami Rie Birthday Live
Event

Asami Rie Birthday Live

Location

Irene Hall (Ochanomizu)

Date

2003.09.13

Time

19:00 - 22:00

Cost

3500 yen

Guests

Asami Rie
Miyano Shizu
Kubo Asaka
Sugiyama Hoshi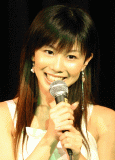 ---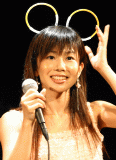 Asami Rie's birthday is September 11, but her birthday live took place on September 13, 2003. She sang many songs, including a new song that she just wrote. Miyano Shizu and Kubo Asaka also came as guests, and they sang some songs.
There were around 30 to 40 people who came to watch. Photos (without flash) was allowed, but video wasn't. Rie wore 5 different outfits.
After the event, they sold a CDR of talk by Rie and Asaka.
---
photo notes
It was VERY dark (around ISO1600, 1/100, F2.8) so it was very hard to take pictures. I don't like to use ISO1600 because of the noise, but I had no choice.
I took 983 photos with my 10D, with 558 of them worth keeping. The number of photos per girl (after deleting the junk) was as follows.
| | |
| --- | --- |
| Asami Rie | 438 |
| Kubo Asaka | 137 |
| Miyano Shizu | 30 |
| Sugiyama Hoshi | 0 |