Kira Kira Melody Gakuen Second Class live
| | |
| --- | --- |
| Event | Second Class Students live |
| Location | Piaza Hall (Matsudo) |
| Date | 2000.04.30 |
| Time | 15:00 - 16:30 |
| Cost | free |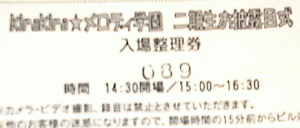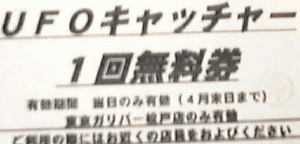 Event report version 0.7 by Hitoshi Doi, 2000.05.21
Guests

Hinano Mayo
Akiba Rei
Akutsu Shiori
Ayane
Ikee Tomoko
Itou Asuka
Inoue Eri
Eri
Endou Satoko
Ouka Yumi
Ousawa Rena
Ohhashi Risa
Ogata Satoko
Odaki Hisae
Ono Akiko
Orito Mari
Kamiya Ruri
Kawasaki Rika
Kanzaki Mayumi
Kimoto Sanana
Kurita Hiroko
Sagami Natsuki
Shiomi Kaoru
Shinohara Emiko
Sugawara Eri
Sukizawa Kanako
Sugiyama Yuka
Sunaga Emi
Senoo Kumi
Taga Yukiko
Takahashi Amika
Takahashi Keina
Nagai Kasumi
Hayashi Akari
Hayashi Yumi
Himeno Kaoru
Hirose Momoko
Hiron
Makiguchi Youko
Mikami Aiko
Misuzu
Mizuta Yuka
Miyawaki Azusa
Murata Eri
Morita Chiaki
Yamada Kayoko
Yamada Satoko
Yoshikawa Yuuya
Washo Kozue
---
The first event for the Kira Kira Melody Gakuen second class girls took place on April 30, 2000. This was a free event, and open to the public. They passed out tickets at 10:00 (I think). I went around 13:00, and I got number 89. I was surprised that there were so many people. Actually the numbers went up to 130 or so.. I sat near the middle, so I should have brought my binoculars. (;_;)
The emcee for the event was Hinano Mayo, and the assistants from the second class were Ayane (4) and Senoo Kumi (21). Ayane said she wasn't at the TGS, so this was her first Kira Melo event.
Then they called all the girls (48 girls) to the stage. (Akimoto Noe and Yamazaki Hitomi weren't able to attend.) The Piaza Hall stage is pretty small, so it was very packed.
Eri (8) gave a short opening speech. Then all the girls sang the Kira Melo school song (kouka) and the Kira Melo theme song. The dance for the theme song seemed to be the same as the the original one by the first class students.
Then they went onto the self introductions of all of the girls. The picture of each girl was shown on the screen, and they talked for about 30 seconds to one minute each.
Then there was a bingo game for everyone in the crowed. Hayashi Yumi acted as the emcee, and Nagai Kasumi pulled the balls out of the machine. The people who got a bingo went up to the stage to get a handwritten letter from one of the girls. All the girls lined up in order and handed their letters to the winners. The game ended when all 50 girls had passed out their letters. (It lasted around 15 minutes.)
[I got a bingo pretty early, and got a letter from Ouka Yumi (10).]
Then everyone came back onto the stage to sing Odoru Houkago. The dance was the same as that of the first class students.
At the end of the event, Washo Kozue (50) gave a final speech.
---
[Kira Melo events]