SG Girls
The SG Girls are the seiyuu who voice the twelve main characters in the game
Sentimental Graffiti
.
Okamoto Asami
Suzuki Urarako
Toyoshima Machiko
Konno Hiromi
Okada Junko
Maeda Ai
[bottom row]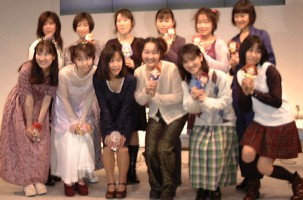 Yonemoto Chizu
Makishima Yuki
Oda Michiko
Mannaka Yukiko
Nishiguchi Yuka
Suzuki Mariko
[top row]
In addition to doing the voices in the game, the SG Girls have sung songs, held concerts (and other events), and had radio shows. There are even some SG Girls goods on sale.
---
CDs
The SG Girls have songs (either as a group or individually) on the following CDs.
Sentimental Graffiti CDs
where the SG Girls have sung or talked.
---
Videos/LDs/DVDs
The SG Girls have released the following videos, DVDs, and LDs.
---
Radio
The SG Girls had the following radio shows.
---
Events
The following are the major events where the SG Girls appeared as guests.