Milky Holmes Live Tour Digest
| | |
| --- | --- |
| Air Date | 2012.03.29 |
| Channel | Tokyo MX |
| Seiyuu Guests | Milky Holmes |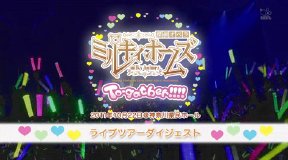 ---
This 30 minute TV program was aired the week after the end of the
Tanetei Opera Milky Holmes II TV anime
. This show was like a long advertisement for the Milky Holmes Budoukan Concert.
They showed many video clips from the Milky Holmes Live Tour of fall 2011. There were group songs and solo songs.
The clips that they showed were just the the first verse, or some short portion of the song. Most of the clips were only one minute or so.
The video contents were as follows.
Seikai ha Hitotsu Janai (Milky Holmes)
Koi no Chousa Houkokusho (Milky Holmes)
Himitsu no Hamazono (Izumi)
Heroine Tantei Monogatari (Mikoi)
Dadada Hakku (Sora)
Good Day Every Day (Suzuko)
Milky Way de Aimashou (Mikoi, Izumi)
Futari ha Tomodachi (Sora, Suzuko)
Dream Nounai TKO (Milky Holmes)
Neppuu Kairiku Bushi Road Euro Version (Milky Holmes)
Sore ha Toys (Izumi, Suzuko)
Gimme milky (Sora, Mikoi)
Ame Agari no Mirai (Milky Holmes)
Kikoenakutemo Arigatou (Milky Holmes)
talk
They showed the talk portion where the girls announced the Milky Holmes Live in Budoukan, May 20, 2012
encore
Party Party (Milky Holmes)
The Milky Holmes girls started the event wearing the original Milky Holmes detective outfits. Then they changed to the white sailor fuku outfits. They also wore one other outfit at the end of the live.