Taruruuto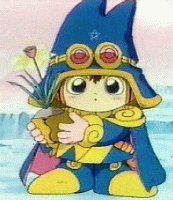 Taruruuto (タルるートくん) is the main character of this story. He is a little magician boy that got called to earth by Honmaru. He is not a very powerful magician, and his magic only lasts for 10 minutes. His magic usually gets Honmaru into more trouble than being helpful.
Taru loves takoyaki.
---
In the anime, Taru's voice is done by
Tarako
.
---
[Magical Taruruuto-kun characters]