Akazukin Chacha character guide (bad guys)
The bad guys in Akazukin Chacha are as follows.
Daimaou (大魔王)
[bad guy-to be filled in later]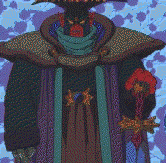 Daimaou's voice is done by Komura Tetsuo (小村哲生).
---
Sorges (ソーゲス)
Sorges was a sneaky little magician who worked for the Daimaou.
Sorges' voice is done by Mitsuya Yuuji (三ツ矢雄二).
---
Access (アクセス)
Access is a very strong knight and the first enemy who was not defeated by the beauty serein arrow.

Actually, Access was Shiine's father, but he had to fight for the Daimaou because his wife (Shiine's mother) had been captured. After he being defeated by the wing criss, he recovered consciousness, and now he has was resting at a hot spring with his wife.
Access' voice is done by ???? ???? ().
---
Cream woman (クリームおばさん)
Cream woman is a master desert maker. But she made cookies and cakes that looked very awful. It tasted awful too.
---
Vampire Kyuu-chan (吸血鬼きゅうちゃん)
Kyuu-chan is a vampire who lived in a castle at a top of a cliff. He wanted to suck the blood of the cute girls, Chacha and Marin. He is a vampire, but trained himself so that he could not be defeated by a cross or garlic. In the basement of his castle, Kyuu-chan had all sorts of fun stores like game centers and bars.
---
Professor Mike-neko (ミケネコ博士)
Mike-neko is a genius scientist who invented many things. But he is crazy about cats, and all of his inventions had something to do with cats. His house is a building that is shaped like a cat. He also had a giant robot mecha (shaped like a cat) called Nyandabar Z.
---
Kankan and Ranran (カンカン と ランラン)
Kankan and Ranran were twin magicians who wanted to defeat Seravi. Ranran (the girl) had invented a juice to make a person turn younger.

Ranran's voice is done by Shimamoto Sumi (島本須美).
---
Nezumi Kid ()
Nezumi Kid was a student at Urara Gakuen who was in the same class as Seravi and Dorothy. But when he lost in a costume contest to Seravi, he left school and went to the Land of Evil.

Nezumi Kid's voice is done by Yao Kazuki (矢尾一樹).


> Akazukin Chacha
>> characters

--advertisements--