Afra Marn
Afra Marn (アフラ・マーン) was one of the high priests. She is 18 years old, and is a calm person who speaks in Kyoto-ben. Afra was 170 cm tall.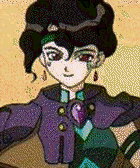 She was the most elegant of the three high priests, and she used the power of the wind.
---
Afra Marn's voice is done by Yoshida Miho (吉田美保).
---
[El Hazard characters]
> El Hazard page
>> character page
--advertisements--