Miizu Mishutal
Miizu Mishutal (ミーズ・ミシュタル) was one of the high priests. She is 29 years old, and the leader of the three priests. Miizu was 175 cm tall.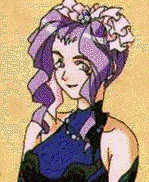 Miizu was the ojousama type, and was also burikko. But she was very short tempered and had an ESP power attack, based on water.
Miizu fell in love with Fujisawa-sensei when she saw him, and wants to marry him.
---
Miizu Mishutal's voice is done by Shimazu Saeko (島津冴子).
---
[El Hazard characters]
> El Hazard page
>> character page
--advertisements--