Yanagiba Kazuya
Yanagiba Kazuya (柳葉和也) was the star of the high school soccer team.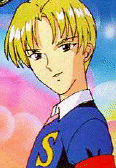 He does not talk much, because when the girls try to get close to him, Yousuke interferes and keeps the girls away from him. But Momoko, Yuri, and Hinagiku liked him, and always tried to get close to him.
---
Kazuya's voice is done by Miki Shinichirou (三木眞一郎).


> Wedding Peach
>> characters

--advertisements--