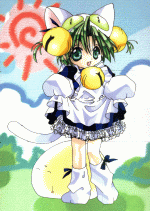 Di Gi Charat is the name of the cute mascot character for the Gamers stores. (Gamers is a chain of stores that sell game and anime related goods.) Di Gi Charat became very popular, and many goods were created. Then in 1999, a short TV series was created.

There was a second TV series in the summer of 2000, which consisted of four 10 minute episdoes (aired over two days). Then there were a few TV specials from time to time.

There was a Panyo Panyo Di Gi Charat TV series in 2002, and the latest TV series is Di Gi Charat Nyo, that began in April 2003 (and ended in April 2004).