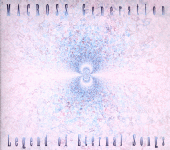 The CD comes in a cardboard box, but there is nothing in the box other than the CD.

Like the "Mylene Jenius sings Lynn Minmay" CD, these songs are arranged differently from the originals. However, the songs on this CD are much closer, and all of them retain the same feel that the original songs had.

The liner book features illustrations of Canari, Passero, Lisa, Rafale, Ghana, and Wolf (names given in English in book).

The book also has four four-panel color manga featuring Macross Generation characters.