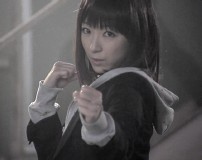 The DVD contains a promo video of Immoralist (16x9 format).

In the video, Yui is an an abandoned warehouse and fights against several guys in hand to hand combat, with punches, high kicks, and many acrobatics. There are closeups of Yui, and distant battle scenes where you can't see her face.

I wonder if Yui did all of the fight scenes herself..