It's Say You volume 3
It's Say You volume 3

VHS: Columbia, COVC-4643
1980 yen
released 1995.12.21
60 minutes
---
The narration is by Shiina Hekiru. [she doesn't appear in the video]
The first 15 minutes or so have Matsumoto Yasunori, Yamaguchi Kappei, Hiyama Nobuyuki, and Okiayu Ryoutarou. They are the only ones in a school club, and they want to get some new people to join (girls).
Then a group of girls came, but Yasunori scared them away..
The next 8 minutes was some advice.
At the 23 minute mark, three of the girls came back, and they talked with Yasunori. The girls were Takenouchi Minako, Nishikawa Hiromi, and Taoka Jun (Okada Junko). They were all wearing blue blazers.
Then after a couple minutes, two more girls came, Nakayama Manami and Ono Ayako. After that, Suzuki Mariko, Ohmoto Makiko, and Toyoshima Machiko came back.
[Machiko was wearing a very short skirt.]
At the 34 minute mark, there were video clips of the following seiyuu talking about how they became seiyuu. Yao Kazuki, Tomizawa Michie, Matsui Naoko, Fukami Rica, Yajima Akiko, Koyasu Takehito, and Tange Sakura.
At the 41 minute mark, the video went back to the "school" and it was a talk session by everyone. The "young" girls asked various questions regarding voice acting to the "experienced" guys.
The ED of the video used the song Voice by Tomizawa Michie.
Then there was a final message by Yasunori and Kappei.
---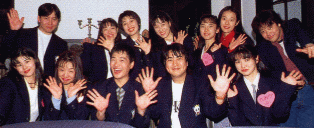 [comment by H.Doi (in 1997): when I look at this video now, everyone looks so young.. (^_^;]