SIF Kanshasai Guilty Kiss special namahousou
---
This was a live broadcast related to the School Idol Festival Kanshasai 2019 event on 9/21. The seiyuu participants were the three members of Guilty Kiss, Aida Rikako, Kobayashi Aika, and Suzuki Aina.
This broadcast was from a studio, and not from the event hall.
They said that the School Idol Festival All Stars game will be released on 9/26.
They showed some photos of the Kanshasai event. They also showed some of the goods.
They gave out information on the current Rhythmical Carnival event in School Idol Festival. Then they played one game.
Then they gave out some new information on the game. They will add the Muse solo version songs sometime in the future.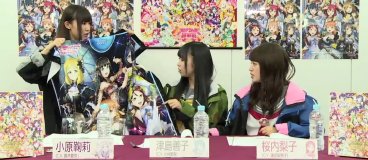 ---
[School Idol Festival Kanshasai 2019]
[Love Live broadcasts]