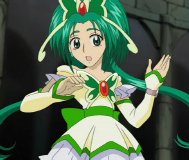 In episode 4, Komachi transforms into Cure Mint (キュアミント). As Cure Mint, Komachi's hair grows very long in the back.

Mint's attack is "precure mint protection".

In episode 26, Cure Mint got a new attack, "precure mint shield". It was the same as the mint protection, except large and more powerful.