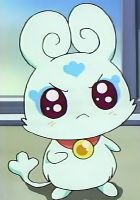 Frappi was a fairy of the flower, from the Izumi no Sato (Land of the Springs). He came to earth, Midori no Sato (Land of Green), with Choppi. He is Hyuuga Saki (Cure Bloom)'s partner.

Frappi is a white furry animal, but he transforms into the shape of a cell phone. He has the power to trigger Saki's transformation into a PreCure.

Frappi likes Choppi, but she doesn't seem interested in him.

Frappi likes to eat, especially furikake gohan (a bowl of rice with seaweed and other toppings).