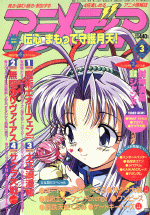 Animedia is a monthly anime magazine that contains a few color pages of seiyuu coverage every month, such as CD recording reports and live event reports.

In 1995 and 1996, Animedia came with a booklet called Anime Star Paradise, which contained seiyuu photos and articles. In 1995, the booklet was monochrome and cheap paper, but in late 1995 the booklet became all color.

The following are pointers to the dynamically generated information pages for the particular issues of Animedia.